Fall is officially upon us, so we can finally enjoy the seasonal items that come with it… in cocktail form! Don't worry, this list isn't exclusively pumpkin-spice cocktails. We've rounded up clever spins on your classic fall flavors like pumpkin, apple, and pear, and a included a bonus section for Halloween cocktails.
Get inspired by these fall cocktails for your next get together, and feel free to add your own autumn twist when making them in in the comfort of your own apartment.
Fall Cocktails Featuring Pumpkin
There's a reason the Pumpkin Spice Latte is so popular—pumpkin is the quintessential fall flavor and it's appearance helps mark the changing of the seasons. Ready, set, fall in love with these pumpkin cocktails.
1. Pumpkin Spice White Russian
Time to pumpkin-spice things up! If you want to stick with the classic pumpkin-spice route, this coffee-liqueur cocktail is for you. Get the recipe from Country Living.
2. Drunken Pumpkin Latte
Want a cozy, warm pumpkin cocktail? Warm up from fall's cooling temps with this adult latte. Proceed with caution… you might want to replace your usual morning latte with this one. Get the recipe from Delish.
3. Pumpkin Pie in a Glass
Have your pie and drink it, too? Yes, please! This creamy cocktail's decadent consistency will make you want to indulge. Get the recipe from Kitchen Meets Girl.
Fall Cocktails Featuring Apple
While apples are readily available year round, there's something special about the cozy flavors of warm apples in the fall weather. That's why we called out three of our favorite apple-cider inspired fall cocktails.
4. Apple Cider Margarita
Tequila + sweet, tart, and smoky… this cocktail will warm you right up! Get the recipe from Half-Baked Harvest.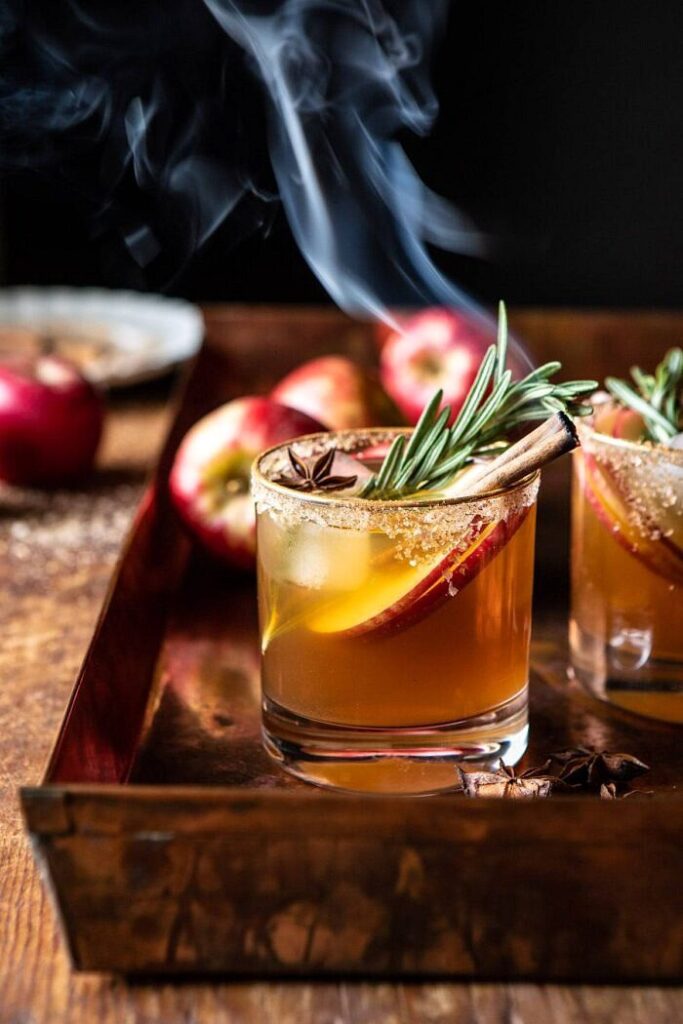 5. Autumn Fizz
A refreshing apple and lemon combo, this cocktail feels like a wellness shot with a splash of gin. Get the recipe from Town and Country.
6. Apple Cider Mojitos
Fall doesn't mean saying goodbye to refreshing drinks. This cocktail builds on traditional refreshing summer drinks with a hint of seasonal spirit(s). Get the recipe from Delish.
Fall Cocktails Featuring Pear
Often taking a back seat to pumpkins, pears are the unsung heroes of fall. With a range of textures and flavors among the different types of pears, this versatile fruit is ripe for your next batch of fall cocktails.
7. Apple and Pear White Sangria
This cocktail is probably the simplest to make at home in your apartment. With accessible ingredients, its incredibly easy to make. It also gets bonus points for combining two of our signature fall cocktail flavors! Get the recipe from Love Grows Wild.
8. The Autumn Pear
According to its creators at Gastonom, this drink was inspired by "crisp, cool fall days." The ultimate fall inspiration! Get the recipe from Gastronom.
9. Fresh Pear Cocktail
The perfect pearing of fall flavors like pomegranate, apple, and, of course, pear come together in this yummy cocktail. We love a good pun just as much as we love this fall flavor combo! Get the recipe from Sweet Life.
Halloween Cocktails
Halloween might not be a flavor, but it's definitely a feeling that can be conceptualized in some hauntingly delicious fall cocktails.
10. Boozy Screamsicle Shakes
These milkshakes bring all the boos to the yard because they're scary good. The perfect night cap for a spooky night. Get the recipe from Delish.
11. Witches Brew Cocktail
Midori gives this cocktail it's shocking lime green potion color. Warning: Only drink this if you want to get witch-faced. Get the recipe from A Couple Cooks.
12. Purple People Eater Cocktail
This cocktail is what people are referring to when they say to pick your poison, but definitely in a good way. Vodka and Blue Curacao make this drink a scary sight, but the flavors fit just right. Get the recipe from Homemade Hooplah.