They call this special place, Jewel of the Hills.
La Mesa, California, has been making its new and trendy debut over the last couple of years with some hometown renovations and in vogue crafty eateries. Once a sleepy San Diego suburb with few places to go for a night out, this cute little town has had a makeover. Literally. Starting with the La Mesa Walkway of the Stars, a tribute to volunteers who have worked over 10,000 hours to service La Mesa, to the Downtown Village Streetscape project which has just been recently completed to transform downtown La Mesa.
It's time for San Diegans to head a bit east…just a bit. La Mesa is only 12 miles from downtown San Diego and Chula Vista, and can be accessed by the downtown SD trolley system. For our residents at Westbrook and Pulse Millenia, be sure to check out these spots just a hop, skip and a jump away.
And for our La Mesa residents at communities Alterra, Seta, and Pravada, it's time for some adventures in your own backyard.
Next Door Usually it's one or the other, but Next Door decided to be both a wine bar and craft beer joint. We aren't complaining. It's kind of genius, really. The owners Jenn and Steve have tasted the best of the best in San Diego and brought their favorites to this little place that feels like home. Complete with a dog name Sawyer who hangs out with patrons on Saturdays…both human and canine.
Vine Ripe Foods There's nothing like a neighborhood market, is there? Vine Ripe is exactly how it sounds, bursting with edible colors just pleading to be eaten. This gem is plenty of things including a full on Mediterranean deli, a bakery with an assortment of goodies, and a high intensity produce section any vegan would die for. And, they have a juice bar. And a wine room is coming soon. Yup. We'll see you there.
Bo Beau Kitchen Garden If you want to dine in what looks like a magazine layout for Elle Home, look no more than Bo Beau. This restaurant is Pinterest and Instagram worthy, and to top it off, they have really good food too. Including their famous Brussels sprouts, which some might say are fantastic. Their food selection is too long to list here, so we highly recommend clicking their link to see all the wondrous choices this Boho chic kitchen has to offer.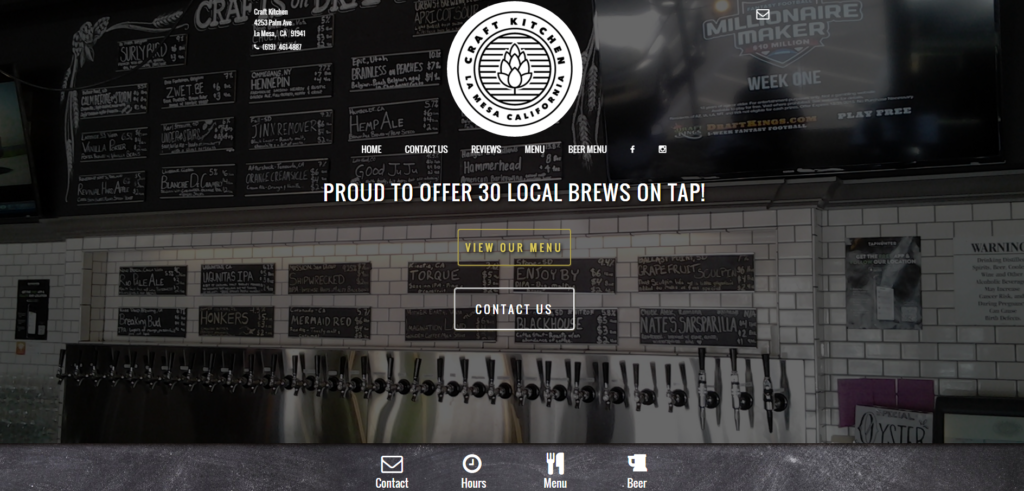 Craft Kitchen It was bound to happen. Eventually craft beer would make its way to La Mesa. And it did, gloriously. "Crafts on Draft" is what's displayed on a chalkboard above a ridicules number of taps that will leave those of us not familiar with the difference between an IPA and a Belgian Pale Ale, somewhat dizzy. It's okay. The peeps at Craft Kitchen are there to help. Plus they have breakfast, lunch, dinner and tacos on the menu, essentially giving you the option of a full day of beer tasting without leaving your seat.
Brick and Laurel We know what you're thinking…this stunning place is in La Mesa? Um, really? Not North Park, South Park, or Little Italy for that matter, but La Mesa?
Okay, glad we got that out of the way because YES, this breathtaking backdrop for receptions and weddings and all around good times, really is in La Mesa. Proving the Jewel in the Hills is not treading lightly on those artsy neighbors just a few minutes west. Brick and Laurel is pretty much a chic Millennial bride's dream come true housed inside a delightfully rustic warehouse.

The Hills La Mesa might not be the first thing that comes to mind when you hear "The Hills". Rest assured, this local pub is nothing like the MTV phenomenon…in fact it might be the antithesis of Hollywood Hills reality shenanigans. The Hills Local Pub is all about tasty food and lots of rotating local San Diego craft beer. They even have a live beer list on their Facebook page! Sounds pretty wonderful to us.