Redecorating? Need professional insight? Look no further! We know how stressful and difficult it can be to redecorate your apartment; sometimes it's hard to even figure out where to begin. That being said, we have compiled a list of the most awesome home décor apps that will be sure to save your life when you're beginning to plan your redecoration; from a Pinterest doppelgänger, to color matching help, to virtual fitting rooms for your rooms.
This is redecorating made easy.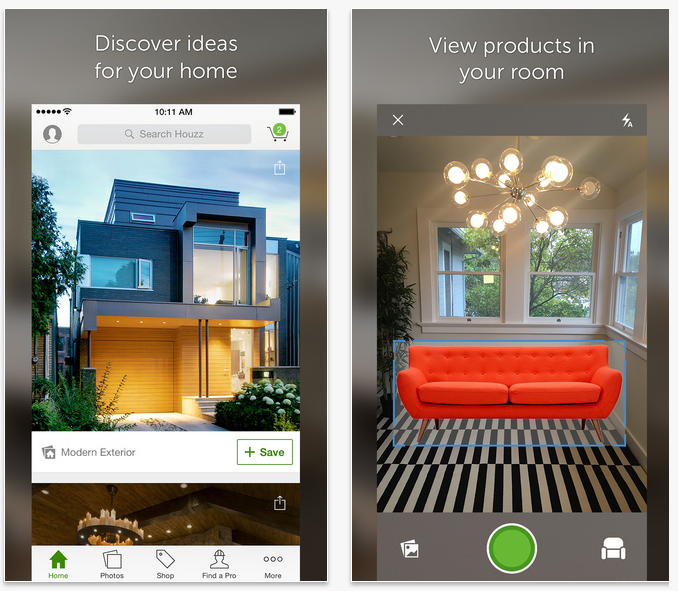 Houzz is like the Pinterest of the interior/exterior design and architecture world. Planning to redecorate your new apartment? Look no further, Houzz has all the ideas you could ever imagine where you can save your favorites to your "ideabooks". If you're looking for professional help, they'll direct you to their extensive list of professionals and also tell you where you can buy various items (furniture, cookware, accessories, etc.). It's an amazing one-stop-shop.
Ikea Everyone knows how awesome and convenient IKEA is, but now they're even greater because they have an app! You can browse their catalog, look at their 360° room designs, and the coolest part, you can see how your favorite IKEA furniture will look in your room.
Color911 has hundreds of color palettes to choose from. They work with a professional color consultant to deliver you the best of the best. You can upload a picture of an item and the app will tell you what colors will work best with that item. Say you're wanting to find a rug that will complement the wall color in your living room. All you have to do is snap a picture of your wall and Color911 will show you an array of colors that will go well with it. No more worrying about whether your new furniture will match the color of your walls.
Like That Decor Have you ever seen a piece of furniture at a friend's house or somewhere out in public that you absolutely love and don't know where to buy it? LikeThat Décor lets you snap a picture, upload it, crop it, and then tells you where you can find something very similar. P.S… they also have "LikeThat" apps for style, garden, pets, and MEME.
Homestyler is basically a virtual fitting room for your home. Place real 3-D items onto an actual picture of your room to see how it will turn out. Homestyler is seriously an awesome tool if you're looking to do a major decor change to your apartment home. You'll never have to worry about furniture not fitting or not matching with your room ever again.
Featured photo is of new Fairfield property, 555 Ross, in Dallas, TX.